Asbestos discovery in Derby Council House refurbishment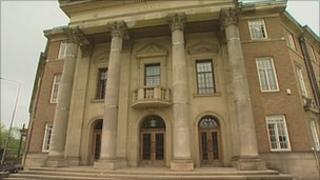 A larger than expected amount of asbestos has been found during refurbishment work at Derby City Council's headquarters.
The Council House in Corporation Street closed in December ahead of the £34m redevelopment.
The Tory-led authority said it was confident it could meet the cost of clearing the asbestos within the project's budget.
Inspections are ongoing to establish how much extra work will be required.
The discovery was made during a "thorough asbestos survey", according to the council.
A spokesman said: "This confirmed significant amounts of asbestos in the internal structure of the Council House.
Open plan
"Although the amount is greater than hoped for the council already has licensed contractors on standby to commence the strip-out and has budgeted for the work."
The refurbishment involves stripping out the building's interior to create open-plan spaces with a new council chamber at the centre.
Earlier this month, it emerged that the council could have to repay as much as £90m on a loan taken out to pay for the work.
But the authority has claimed the savings made by using modern facilities will make the building cheaper for taxpayers.
The revamped headquarters are due to open by Christmas 2012.