Ticket warning ahead of FA Cup match at Meadow Lane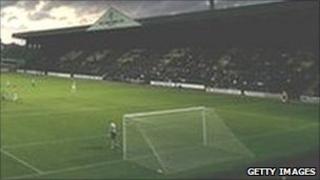 Fans without tickets for the FA Cup game between Notts County and Manchester City have been advised to stay away.
Police said the all-ticket game at Nottingham's Meadow Lane on Sunday was sold out for both Magpies and Blues supporters.
Manchester City has sold its 4,750 ticket allocation.
Visiting fans will be greeted by police fan liaison officers to ensure they know how to get to the ground.
City supporters arriving by coach will be dropped off at Nottingham Forest's car park, which is a 10-minute walk from Meadow Lane.
Behaviour monitored
Supt Mark Holland, who is police commander for the game, said: "There will be a proportionate police presence to allow fans with tickets to travel to and from the ground safely and enjoy the game.
"Any fans that have not got a ticket should simply not travel to the match, and my officers and police spotters from Manchester will concentrate their efforts on identifying anyone travelling without a ticket.
"Fan liaison officers and match day stewards will also meet away fans and make sure they know how to get to the ground.
"We will be going into the pubs and having a friendly chat with them about their team and the day's match."
Police said all pubs and bars within the Nottingham area would be working with officers to monitor group behaviour.
The match kicks off at 1400 GMT.