Shrovetide customs altered over Green Man sale fears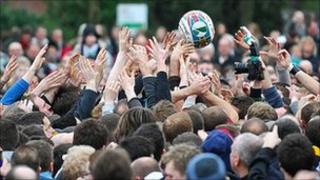 The sale of a hotel has forced organisers to change the customs of a traditional Derbyshire football game.
Ashbourne Shrovetide football, which dates to medieval times, attracts thousands of people each year.
It has close connections with Ashbourne's Green Man Hotel, which is expected to be sold within a few weeks.
As a result, organisers have moved the pre-game banquets to a new venue and changed the route of the parade of the ball.
The game takes place in the town's streets on Shrove Tuesday and Ash Wednesday, which this year fall on 8 and 9 March.
Two teams, Up'ards and Down'ards, battle to get the cork-filled ball to goal posts which are three miles apart.
This year, the banquets, each for about 400 people, will be held in the town's leisure centre.
The revised parade route will see the people chosen to start the game, and the balls, paraded along Church Street and Dig Street to the start in Shaw Croft car park.
Shrovetide committee secretary, Mick Betteridge, said: "The Green Man is the spiritual home of the game but the situation there is fluid so we had to act now.
"It will feel strange being at the leisure centre - a lot of our memorabilia is still at the Green Man."
Mr Betteridge said the change of venue was not unprecedented as the hotel was also unavailable for about two years in the early 1990s.
He said he hoped next year the new owners would allow the game to return to its historic home.