Derby major route bus lanes scrapped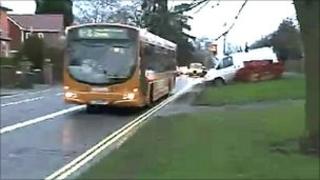 Controversial bus lanes on two of Derby's major routes are to be scrapped.
The Duffield Road and Kedleston Road lanes proved unpopular with drivers who claimed they made the carriageways too narrow and slowed down traffic.
They were implemented by the city council's previous Liberal Democrat administration, but have been scrapped by the now Tory-led authority.
The decision to remove the lanes has been welcomed by campaigners.
The Duffield Road lane was introduced in 2007 at a cost of about £100,000, but campaigners argued the road was too narrow while some motorists claimed it was dangerous and slowed down the traffic flow.
Simon Bucknell, from Duffield Road Action Group, said: "Although the sentiments behind the lane were positive it just wasn't going to deliver on its promises.
"It was going to make the road much more dangerous - which it has done."
Kedleston Road's bus lane, which cost £130,000, was introduced in early 2010, but residents were again concerned that the road was too narrow to accommodate it.