Long Eaton woman missing after house fire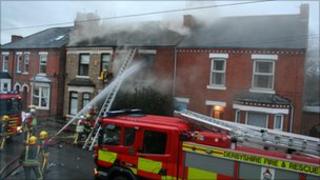 A woman is missing after a fire damaged terraced houses in a Derbyshire town.
Crews were called to Wellington Street in Long Eaton shortly before 0800 GMT to reports of smoke coming from a property.
Six engines and an aerial ladder are being used to stop the flames spreading.
Firefighters said the search had been made more difficult as they had problems getting into one house.
Pete Marlby, a station manager with Derbyshire Fire and Rescue. said: "Very, very difficult access problems for the firefighters.
"They have done really well to work in such arduous conditions and have done well to search as much as they have done."
Investigations into the cause will begin as soon as the area is safe.
Fire officers said they expected the road to be closed for most of the day.