Council greenhouse in Derby could close in cuts drive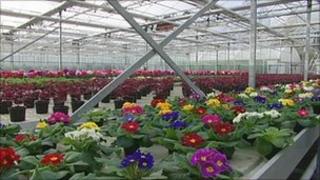 Derby City Council could cut the number of flowerbeds it stocks and close the greenhouse cultivating its plants and flowers in a bid to make savings.
It wants to save £70,000 a year by grassing over 40% of city flowerbeds.
It is also considering an extra annual saving of £100,000 by closing the Glasshouse in Markeaton which provides hanging baskets and civic decorations.
This would affect four full-time staff who might be redeployed elsewhere in the council, a spokesman said.
Casual staff would also be affected and the council said it was in consultation with the relevant workers.
Cabinet member for neighbourhoods Chris Poulter said: "With not having to produce so many flowers, it makes the production here not viable and we can buy the plants from other sources at a cheaper price."
The proposal to close the Glasshouse will be considered by the Derby City Council's cabinet on 15 February.