Burst pipes flood Derbyshire primary school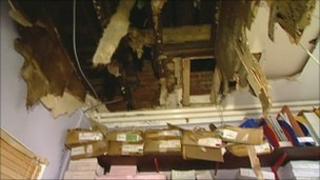 A primary school on the Leicestershire/Derbyshire border has been forced to stay closed after burst pipes caused major flooding.
Teachers at Donisthorpe Primary School near Swadlincote, discovered the flood during checks on Monday.
Ceilings have collapsed and areas of the school have been flooded by up to 4in (10cm) of water.
Industrial heaters have been brought in to dry the school out and it is hoped pupils will return on 10 January.
Head teacher Sylvie Newman said: "When I came in, water was cascading through the ceiling, flooding all the way through the corridor and to the other end of the school.
"It was a scene of real devastation."
It is not yet known how much the damage will cost to repair but water is being pumped out and the school should reopen on Monday.