'Back office' focus on police cuts, says Theresa May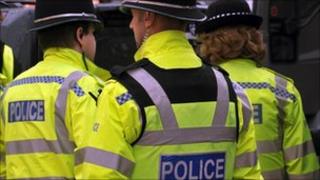 The Home Secretary has responded to concerns about budget cuts on policing in Derbyshire by saying the focus will be on "back office" reductions.
In the Commons, North East Derbyshire's Labour MP, Natascha Engel, asked Theresa May to predict the impact on rural communities in the county.
She said front-line staff such as PCSOs were "arguably even more important" in isolated communities.
In response, Mrs May claimed forces had been told to protect visible policing.
Grants announcement
She said: "We have been absolutely clear about the need for forces looking at these cuts to ensure that the cuts come from back office, from procurement, from IT provision and so forth.
"And that they do put a focus, as chief constables up and down the country are saying, on front-line policing, on the visible community policing which is of benefit to forces in terms of catching criminals but is also of course of benefit to local communities."
Cuts to police budgets are due to be phased in over the next four years, starting with 8% reductions in 2012-13, 6% the year after, and 4% in each of the following two years.
In October, after details of the government's Comprehensive Spending Review were announced, Derbyshire Police Authority said it would work to preserve frontline police services "as much as possible".
The authority said the situation would become clearer later this month, after the Home Office has announced how much police forces will receive in grants.