UK experts to see keyhole surgery in Nottingham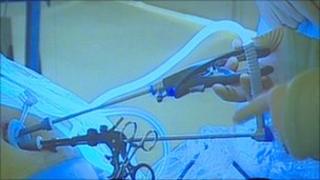 About 400 surgeons from across the UK are coming to the East Midlands to watch a series of live keyhole operations in hospitals in Nottingham.
The city is hosting the annual scientific meeting of the Association of Laparoscopic Surgeons (ALSGBI).
Nottingham has been at the forefront of developing laparoscopy, which means accessing the internal abdomen and pelvis without large cuts to the skin.
Consultant surgeon Ian Beckingham said the procedure was less painful.
He said: "There's a lot less pain so they need less painkillers afterwards and it reduces the complications from the painkillers themselves.
"The patients recover and leave hospital within one or two days and they're back at work in one or two weeks instead of one or two months.
Delegates at the two-day conference will be able to watch procedures beamed live from four operating theatres in the Queen's Medical Centre (QMC) and City Hospital campuses.
They will then return to their own hospitals to put into practice the techniques they have seen demonstrated.