Agencies 'missed chances' to help Derby sex gang girls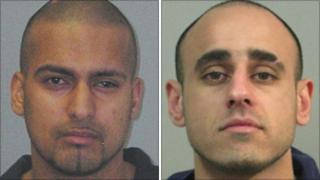 Agencies "missed opportunities" to help girls caught up in a sexual exploitation ring, an independent inquiry has found.
A gang of men from Derby were convicted of systematically grooming and sexually abusing teenage girls.
A Serious Case Review was carried out by the Derby Safeguarding Children Board into two of the victims who were in local authority care.
It said more "prompt and decisive action" should have been taken.
Thirteen men were charged in relation to Operation Retriever and 11 stood trial for a string of charges, not all sexual, relating to the case.
Abid Mohammed Saddique, 27, and Mohammed Romaan Liaqat, 28 - both married with children - were said to be the leaders of the gang.
Their convictions at Leicester Crown Court were the culmination of three separate trials relating to the undercover investigation.
The Serious Case Review said professionals failed to spot the signs of abuse. Instead, girls were treated as rebellious teenagers.
The review's summary said there were "missed opportunities" to help all of the victims.
It said although it was difficult to know whether the sexual exploitation could have been predicted for the two girls in care, their background meant it was predictable they would become vulnerable adolescents at risk of abuse.
"Had there been earlier, concerted intervention in their lives to address their unmet needs it is likely that they would have been less vulnerable as adolescents and therefore less likely to be abused," the report said.
The review said the two girls, referred to as YP1 and YP2, were vulnerable because of early life experiences, including inconsistent parents and neglect.
One of the girls was looked after by Derby City Council from April 2009 and the other from October 2008.
There were "critical delays" getting out-of-city placements for them and both girls ended up receiving criminal convictions - treated as offenders rather than victims - the inquiry found.
Work together
It said: "Organisations were ill prepared for the scale and complexity of the abuse exposed by the police investigation."
But despite drawbacks, once the level and nature of the abuse was recognised when the operation went "live" in April 2009, agencies showed a "commendable" response, the report said.
The board's acting chair Jo Davidson said one of the key findings was that services did not always work together to share information and "nobody had a comprehensive picture of the girls".
"There's a clear message there and the issues for us generally in terms of communication, training and helping everyone, including parents, who see signs of sexual exploitation."
She added: "In short there are clearly elements where work could have been done better and there are clearly aspects where, with hindsight, decisions should have been taken more quickly."