Plans for Burnaston Hall rejected once more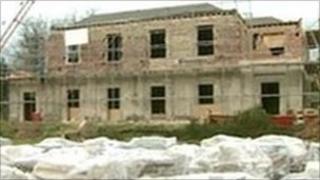 Plans to rebuild a 19th Century Georgian house taken down brick by brick 20 years ago have once again been rejected.
Burnaston Hall, owned by Kevin Ellis, was dismantled to make way for a Toyota factory in Burnaston, Derbyshire.
Mr Ellis wanted to rebuild the house - currently stored as 1,500 stones on pallets at a secret location - on land at Bearwardcote in south Derbyshire.
But South Derbyshire District Council refused the application on Tuesday.
Countryside policy
A spokeswoman from the council said one objection about access to the site had been raised.
She added the plans were rejected on the grounds they were contrary to the council's countryside policy and an inadequate flood risk assessment had been submitted.
Mr Ellis declined to comment on the outcome.
It is believed each stone of the house is worth about £300.
A previous planning application for a site in Repton was refused in 2008. Prior to this, Etwall was put forward as a location but did not go ahead after Mr Ellis' firm lost the option on the land.