Highfields School students walk out in fees protest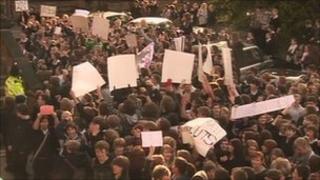 Up to 300 students walked out of their Derbyshire school to protest against a planned rise in university tuition fees.
The fifth and sixth-form students from Highfields School in Matlock marched to the nearby county council headquarters.
They were also angry about proposals to scrap Educational Maintenance Allowance (EMA), which allows poorer students to claim between £10 to £30 a week.
The rally was part of a day of action by students across the country.
Wednesday's events follow a protest in London two weeks ago, which ended in violence when the Conservative Party's offices were badly damaged.
The government plans to increase tuition fees at English universities to up to £9,000 a year.
The plans have been backed by Liberal Democrat leader Nick Clegg - whose party had pledged to vote against a rise in fees in the run-up to the general election.
Earlier, Mr Clegg urged students to examine the government's proposals more closely before taking to the streets.