Buyer announced for Ilkeston Town Football Club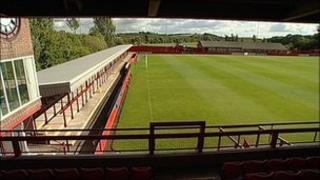 Ailing Derbyshire football club Ilkeston Town has new owners, officials have confirmed.
The Blue Square North club was issued with a winding up order in September over failure to pay a £50,000 tax bill.
Nottinghamshire-based firm SR Education was named as the successful bidder after discussions with the liquidator and Erewash Borough Council.
SR Education declined to comment until a news conference which will be held on Monday.
'Fantastic' news
Liquidator Dean Nelson, head of corporate recovery and insolvency services at Smith Cooper, said he was impressed with SR Education's bid.
"They submitted a robust commercial business plan which detailed its vision and ambitions for the new club," said Mr Nelson.
"I could not fail to be impressed with the competence of the team involved which also secures the ongoing involvement of both Kevin Wilson and Darren Caskey who have been fantastic in what has been a difficult eight-week period for everyone concerned," he said.
Ilkeston Town manager Wilson said: "From my point of view, it's fantastic for Ilkeston in general.
"The club's going to be reformed and hopefully will play in as high a league as is possible."