Victim groomed by 'evil' Derby sex gang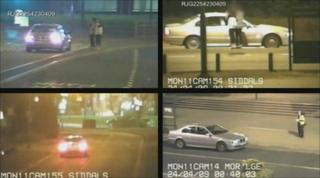 Sexual predators Mohammed Liaqat and Abid Saddique were caught on CCTV as they drove around Derby stopping girls on the street.
Some teenagers did not take the bait but others swapped mobile phone numbers and were then bombarded with texts.
"They'd take you out, buy you ice creams, take you out for a lovely meal," according to one victim, who was enticed to meet up and then raped.
She said she was targeted because she told them she came from a broken home.
"They ask you certain questions like 'who do you live with?' and they're getting to know what kind of protection you've got, what kind of safety you've got, who's going to stick up for you if they do anything.
"They actually take advantage of the fact that no-one does care about you really.
"They make you feel as if they're on your side and that you are in a real relationship and they just abuse any feelings of love and caring about people."
Liaqat and his friend Saddique have been found guilty of a string of sex offences, including rape, which took place in cars and at the homes of their friends.
Seven other men have been convicted during three trials, the outcome of which could only be revealed following the final verdicts.
Liaqat, one of the ringleaders, plied his victims with drink or drugs.
At one Derby address, several victims were invited to parties and then pressured into sex, sometimes with several partners.
One teenager described a sexual assault which involved at least eight men.
If the teenagers refused the men's advances, they were threatened. Two were threatened with hammers and another was locked up, held prisoner and then raped.
Detectives collected numerous DNA samples from several crime scenes. Twenty seven girls eventually came forward to say they had been victims.
Many of them had had previous contact with Derby City's social services, and two were still in care at the time of the offences.
Det Supt Debbie Platt, who led the investigation, said: "The offenders have followed girls wearing school uniforms on the streets.
"They've driven into school car parks. We were incredibly shocked because we hadn't anticipated the level of offending that was going on.
"It's very difficult to understand their motivation but it's that classic grooming scenario where the adult has control over the child."
The inquiry was prompted by concerns at a children's charity which patrols the streets of Derby. Safe and Sound was set up to stop teenagers being groomed for sex.
The organisation's founder Sheila Taylor said: "I was worried that we'd wind up with children seriously injured, possibly even dead.
"I think it is really widespread - there's 40-plus projects up and down the UK that are dealing with this issue.
"Many of them find young people are seriously damaged."
The victim who agreed to speak told me: "There's part of you that looks at these men like a father figure, as weird as it sounds, because you feel like they're going to keep you safe and they then abuse every part of that."
She added: "I think they're evil. I just cannot understand what has made them so evil."
The gang's youngest victim was only 12, and detectives have praised all the girls who gave evidence in the trials.
They are convinced their bravery has protected countless other teenagers from becoming victims.