Kinder Scout to be fenced to allow recovery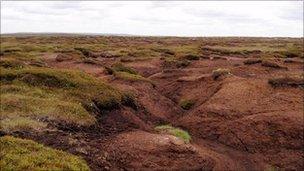 The site of a famous mass trespass which led to greater access to the countryside is to be fenced to allow its eroded landscape to recover.
In 1932, hundreds of walkers trespassed on Kinder Scout in the Peak District - a key moment in the campaign to improve public access to rural areas.
Now the National Trust wants to install a temporary sheep-proof fence to allow overgrazed moorland to regenerate.
However, the area will still be open with "access points" for walkers.
While Kinder Scout has become a symbol of free access to the countryside, it has also become "one of the most damaged areas of moorland" in the UK, according to the National Trust.
Catastrophic wildfires, a long history of overgrazing, air pollution and thousands of visitors have led to bare and degraded peat bogs and gullies.
The five-year restoration programme, starting next spring, aims to restore vast areas of the blanket peat by blocking gullies and planting cotton grass, heather seed and dwarf shrubs such as bilberry.
The project will also involve spreading heather "brash" on eroded areas where it creates a micro-climate to allow seeds to germinate.
The fence itself would enclose an area of of around 1,370 hectares (five square miles), potentially including fencing across the plateau itself, and could be in place for up to 15 years to help the plants regenerate on the site.
The trust said options other than fencing the plateau had been examined but alternative solutions, such as using shepherds to take the sheep off the plateau on a regular basis, had proved too difficult.
Discussions are continuing for alternatives which would prevent the need for the section of plateau to be fenced.
A public consultation will be held from 1 December to decide on the final location of the temporary fencing and the access points for walkers.
Related Internet Links
The BBC is not responsible for the content of external sites.