Derby school head unhappy over kitchen closures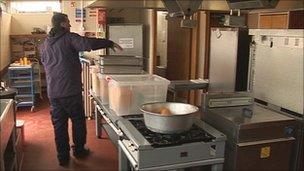 A Derby head teacher has said she feels let down by the school dinners service after safety concerns closed dozens of kitchens.
On Monday the city council closed 33 school kitchens after checks revealed faults in at least four gas appliances.
Kathy Mayer, the head at Cherry Tree Hill Primary, said she had not been given enough information about possible problems.
The council said the safety of staff and children was its priority.
An explosion in a kitchen last year prompted some checks. The results of a subsequent programme of safety inspections were reported to the council last week.
Ms Mayer said it was unfair that children had to miss out on hot meals at the coldest time of the year, and that the sudden closure of the kitchens had given no one time to prepare.
"I feel let down by the school meals service on this, definitely."
She added: "We have been asking questions and getting no answers. There have been other issues in the city where a health and safety situation has arisen and the other services have responded promptly.
"This has not been a prompt response."
Ms Mayer said a meeting of head teachers and council officials on Wednesday led her to believe action was now being taken, but her confidence had been shaken.
"We bought into the city service and part of that service, the package, is maintenance, maintenance of the equipment and resources.
"And when you buy into a city service you have the trust they are going to fulfil that."
Harvey Jennings, the Conservative leader of Derby City Council, said earlier: "This is a problem that goes probably back to last December and we have obviously only taken control in May this year.
"We are now working as quickly as we can to solve the problem."
Related Internet Links
The BBC is not responsible for the content of external sites.