Derbyshire schoolboy becomes one of youngest pilots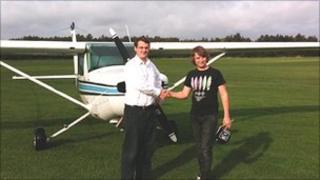 A Derbyshire schoolboy has become one of England's youngest solo pilots after completing an early-morning flight on his 16th birthday.
Sam Rayworth spent 12 minutes flying a Cessna 152 at 950ft (290m) above Derby Airfield on Thursday.
Until then, Sam had always been assisted by instructor Paul Jones.
His father Mark, from Mickleover, said he believes his son is now the country's youngest solo pilot after landing by 0942 BST.
He said: "We knew there was another 16-year-old who had completed a solo flight on his birthday by 10am so I said there was a chance of Sam going one better.
"I thought it would be a challenge and achievement if Sam could take off by 9.30am. It was touch and go because there was a little bit of drizzle but when Sam took off I was the most nervous I have ever been."
He added: "Sam is very determined. It's funny really because he switches into a different mode and gets respect from all the other people down at the airfield.
"But when he is not there, he is just a normal kid who enjoys riding his BMX around the estate."
The schoolboy, who cannot legally drive, was given his first flying lesson as a 14th birthday present.
Sam, who wants to fly for a commercial airline, said he was inspired by his grandfather - 69-year-old Jeff Cross, a veteran pilot.
The teenager said: "I was very nervous when I took off on my own on Thursday but once I got over the nerves it was OK. The scary feeling was that it was only me who could land the plane."
Under rules set out by the Civil Aviation Authority (CAA), a pilot has to be 16 or over before they can legally complete a solo flight.