Derbyshire heritage rail team finishes line restoration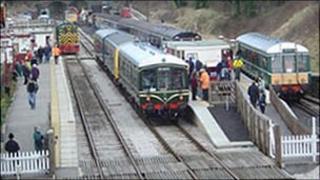 Steam railway enthusiasts have finished reopening a difficult stretch of track in their bid to restore a closed railway line in Derbyshire.
The final sleeper of around 5,000 that have been replaced between Duffield and Wirksworth was laid on 21 September.
It is hoped the Ecclesbourne Valley Railway will open fully for passengers in the spring.
Volunteers have spent a decade reopening 8.5 miles (13.7 km) of track, which first carried passengers in 1867.
The group was concerned that if it failed to finish the line before October they would have to pay thousands of pounds for a private safety inspection.
Government rules on heritage railway inspections have changed and the work must be done by consultants.
The Ecclesbourne group said it had replaced 728 sleepers between Wirksworth and Duffield in three weeks.
The railway volunteers are also renovating the station at Duffield.