Ilkeston Town fans may set up new club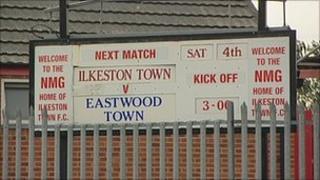 Supporters of Ilkeston Town are looking to set up a new club after the Robins were wound up by the High Court over an unpaid tax bill.
The Blue Square North club has said it is appealing against the decision made over an outstanding debt of £50,000 to HM Revenue and Customs (HMRC).
Supporter Duncan Payne said fans still wanted football in the area.
He said he and fellow enthusiasts would look to form a new club for next season if the appeal was unsuccessful.
Mr Payne said: "It's been traumatic for all supporters and everyone at the football club."
He said he hoped the Robins could be saved but wanted to get momentum going for a new club, which will likely feature new players, if it cannot.
"It's unlikely the existing players would remain at the club.
"You can't form a new club during the season and it seems unfair for the players to hold fire for the best part of 12 months and then rejoin - so I'd expect the players would be leaving in due course.
"But the appeal process is in place and perhaps the club could still be saved," he said.