Work to start on regeneration of Buxton Crescent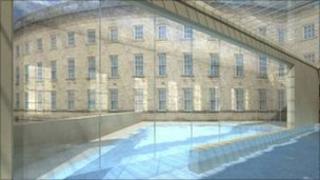 Plans to transform an historic Derbyshire site into a £32m luxury hotel and spa have been approved.
After a seven-year wait, legal issues concerning protection of the Buxton spring have been resolved.
Work to redevelop the Crescent in the town, built between 1780 and 1789, has been approved by the county council and work should begin before Christmas.
Plans include a 79-bedroom hotel, a thermal spa, natural mineral water spa, cafe and visitors' centre.
The legal agreement protects Nestle's access (the company who own Buxton water) to draw underground mineral water, under licence from High Peak Borough Council.
The signing follows seven years of negotiations, test drilling and archaeological investigations.
Funding shortfall
Funding for the project includes a £12.5m Heritage Lottery Fund grant. The rest of the costs will be met by developers The Trevor Osborne Property Group, CP Holdings, Danubius Hotels, Derbyshire County Council and High Peak Borough Council.
Developer Trevor Osborne said: "It is wonderful news that the two councils have been able to sign an agreement with Nestle, resolving the technical and hydrological issues which have been challenging the progress for the past few years.
"This news will enable us to move forward with the restoration of The Crescent and the spa."
Mr Osborne added a £5m funding shortfall had been created with the news of the closure of East Midlands Development Agency, but he was hopeful the councils would find a solution.
Work is due to begin this winter.