Derbyshire County Council staff protest over cuts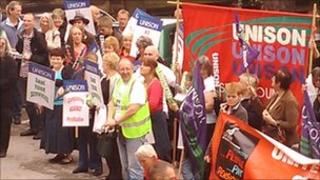 Staff and members of the public have staged a protest against proposed budget cuts and public services in Derbyshire.
The union Unison, which represents 10,000 staff at the county council, called for the public demonstration outside County Hall in Matlock.
The union is fighting against care home closures and anticipated cuts to libraries and frontline services.
The authority is faced with making cuts of £60m over the next five years.
Andy Belfield, from Unison, said: "The government is making a political choice to cut vital public services, which could see low-paid care staff in Derbyshire thrown on the dole.
"The fight to protect quality public services in Derbyshire is under way, and Unison calls on the public to join our campaign."