Derby council vows to address bus station concerns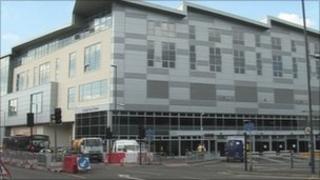 Derby City Council has promised to address concerns from disability campaigners about the city's newly opened bus station.
The 43 complaints are contained in a report prepared for the council's disability forum.
They include concerns about a lack of access to the buses from the station platform.
A disability campaigner said he was only allowed into the new development two days before it opened.
Developer David Osbourne, who runs the Riverlights project where the bus station is located, said he would be willing to meet the city council.
Short platforms
The bus station was opened in March.
Andy Findlay of the council's Disabled People's Diversity Forum said there was not enough queuing space for disabled passengers inside the station.
He added the platform does not reach far enough to allow disabled passengers to use special doors located in the middle of some buses.
The council said as people in wheelchairs are not able to board some buses in the normal bay, they will be allowed to board the service from the coach bays where the piers are wider.
Mr Findlay said: "If only we'd been called in earlier to look at them… we'd have been able to solve some of the problems."
A council statement said: "In the days before the building opened, no access was possible due to pavement rebuilding works at the entrance."
Mr Osbourne said: "We built the bus station in accordance to specifications that the council wanted - they took possession and are operating under a lease. If they want to make improvements as tenants then they can carry those out - and we will provide consent if it is needed."
The council said work was already under way to improve the disabled toilets and to install better signage at the station.