Fire-damaged theatre in Long Eaton reopens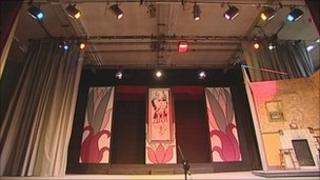 A Derbyshire theatre that was gutted by fire back in 2003 has officially reopened after being rebuilt.
The gala opening of the Duchess in Long Eaton this weekend featured performances by 70 actors from eight different amateur drama societies.
The venue, once an old Methodist church, has a new stage and auditorium, as well as space for regular coffee mornings. Work cost £250,000.
Leon Wade, one of the volunteers, said it had been a labour of love.
He said: "The determination of the members and the societies to come together and get it rebuilt, as a passion, was brilliant, and that's what's brought us here today."
A lot of the money for rebuilding came from local fundraisers.
The cause of the original fire has never been determined.