Action for ME says patients struggle to get medical help
By Robert Cooper
Political reporter, BBC Cumbria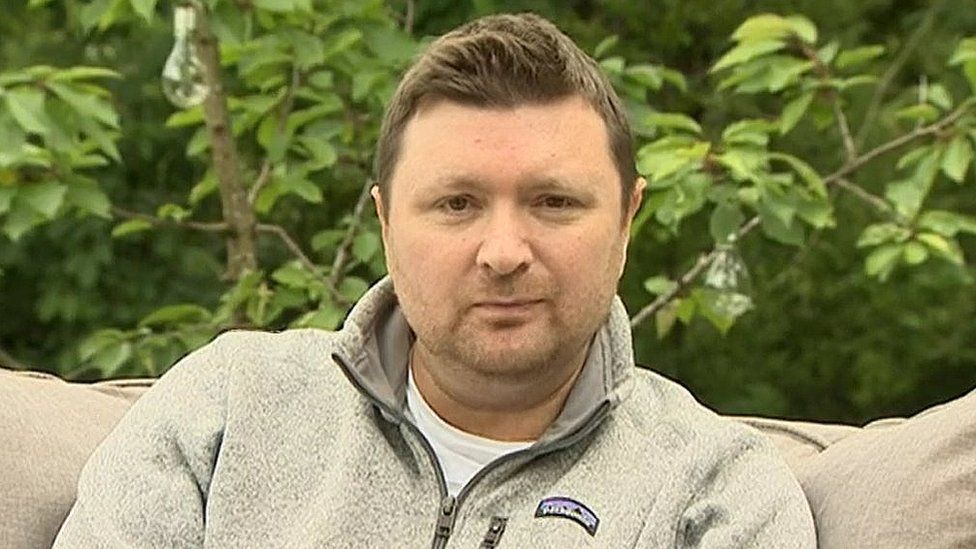 People with a chronic fatigue illness are struggling to access medical help, a charity has claimed.
Figures sourced by the BBC show many Myalgic Encephalomyelitis (ME) patients are being discharged just months after starting treatment.
Action for ME chief executive Sonya Chowdhury said ME had been "neglected for decades" with patients finding services "inaccessible".
Stephen Hocking from Keswick, Cumbria, was diagnosed with ME 15 months ago and said the condition had been "devastating", but there was a lack of medical understanding.
"When I was finally diagnosed nobody explained what it was or how it would affect my life," he told BBC Politics North.
"The only treatment option was a clinic led by a health psychologist, when ME is not, despite misconceptions, a psychological issue.
"Doctors are taught very little about our disease and so many of us are written off as lazy or suffering from mental health issues."
ME affects about 250,000 people in the UK.
Symptoms include extreme, permanent tiredness, debilitating pain, impaired memory and concentration, and the inability to recover after even minimal physical activity.
Freedom of Information requests submitted to health trusts in the North East and Cumbria by the BBC found some discharged patients within a few months.
Of the 122 referred to the North Cumbria trust in September 2021, 46 had stopped using the service by December, despite the condition usually being considered chronic, or long term.
Half of those in Newcastle (131 out of 260) and 40% of those in County Durham and Darlington (97 out of 242) had also been discharged in that time.
North Cumbria Integrated Care NHS Trust said it delivered care "in line with NICE guidelines" and patients who were discharged were given an "ongoing care plan and can refer back into the service if they feel their symptoms have worsened".
Newcastle Hospitals NHS trust said it sometimes referred patients for psychological therapy and wanted to help them manage their own condition on a long-term basis with their GP.
Those discharged could "self-refer back to the service if their circumstances change", it said.
County Durham and Darlington NHS Trust said patients usually had 12 therapy sessions, after which some felt "they have been sufficiently helped and some may feel that the sessions are not for them".
They were reviewed after six and 12 months "to ensure they remain empowered to manage their condition" or check if more sessions would be beneficial, it said.
Ms Chowdhury told the BBC people were finding the treatment services "inaccessible", either because of the distance they had to travel or because they were so "severely affected" by fatigue.
Welcoming Mr Javid's pledge, Ms Chowdhury said it was "critical" the government and health chiefs "take ME seriously", adding: "People have been neglected for decades.
"It's important we bridge the gap between policy and the lived experiences."
Mr Hocking said before he developed the condition 15 months ago he had been working full time as an NHS radiographer and would "squeeze" as much cycling and fell walking into his spare time as possible.
"I was a happy and healthy husband and father with a bright future," he said, adding "My life changed overnight. I can now barely remember what it was like to be that person."
Mr Hocking said his symptoms were so bad he had to give up his job, was sleeping for up to 16 hours a day and some days could not get out of bed, adding it felt like his battery "only reaches 5% no matter how long you put it on charge".
"Just a simple conversation can exhaust me to the point where I have to lie down in a dark room," he said.
"My body no longer regulates itself properly and simply standing up causes my heart rate to race like I'm running a marathon.
"More research is desperately needed. It's time the medical system tackled this devastating disease."
North Cumbria NHS Trust said it would be happy to talk to Mr Hocking directly about any issues with treatment he had received.
A spokeswoman said the trust offered psychological, occupational and physiotherapists to ME patients, adding: "A rehabilitative approach involving psychological therapies and physiotherapy-based support has been shown to have a positive impact for people experiencing persistent physical symptoms.
"Patients who are discharged from the service are given an ongoing care plan and can refer back into the service if they feel their symptoms have worsened."
Related Internet Links
The BBC is not responsible for the content of external sites.