Great Musgrave bridge: Concrete infill refused must be removed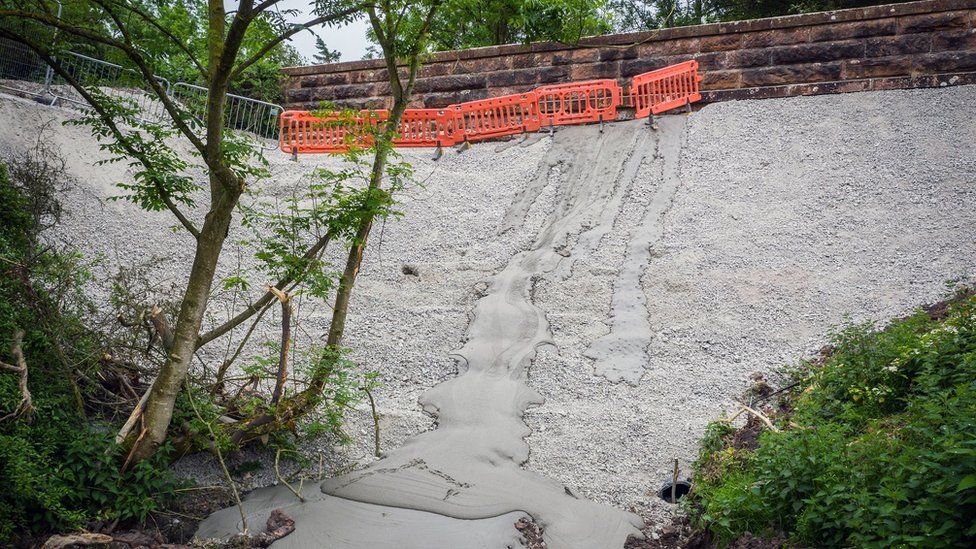 Hundreds of tonnes of concrete poured under a Victorian railway bridge will have to be removed after being refused retrospective planning permission.
National Highways (NH) carried out the work at Great Musgrave, Cumbria, in July 2021 to stabilise the structure.
The government's road agency said the reinforcement was essential for public safety but critics branded the move "cultural vandalism".
NH will not appeal against Eden District Council's refusal.
It had said the bridge, built in 1862, was at risk of collapse if used by heavy vehicles but opponents claimed it could hold lorries weighing up to 44 tonnes.
More than 800 people had raised objection to the work.
Phil Dew, chairman of Upper Eden Railway Heritage Partnership, described it as a "case of cultural vandalism and desecration of a highly valued structure".
Ali Ross, a Green Party councillor on the council's planning committee, said the loss of a "wildlife corridor" beneath the bridge was a major concern.
The plan had been recommended for refusal by planning officers and committee chairman William Patterson said he thought that was the "right decision".
He told BBC Radio Cumbria there were "a couple of main reasons" for refusal, including "ecological and visual" ones.
He said the work had been done "without prior consent" and posed "harm to the surrounding environment", including bats that had been roosting beneath the arch.
Hélène Rossiter, head of the NH's Historical Railways Estate programme, said: "We have listened to the feedback on this issue and earlier this year amended our processes to ensure full planning permission is sought before carrying out work like this in the future."
She said future works would be judged on "heritage or ecological value" and HE would "no longer consider the infilling of any structures unless there is absolutely no alternative".
NH previously said that if the 1,500 tonnes of concrete had to be removed the bridge would still need strengthening at an estimated cost of £431,000.
Related Internet Links
The BBC is not responsible for the content of external sites.