Leiland-James Corkill: Murder-accused admits shaking to stop crying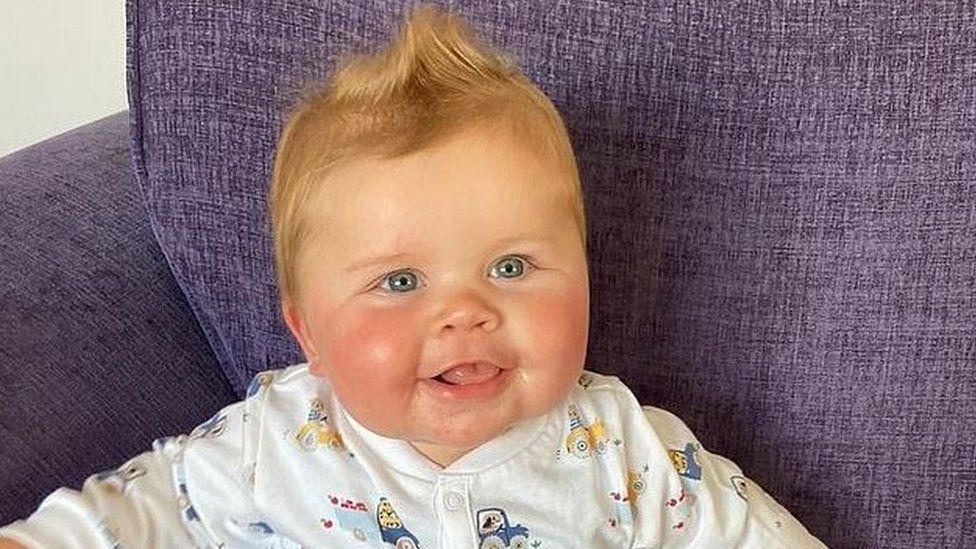 A woman who killed a baby she was trying to adopt has told a court she forcibly shook him to stop him crying.
Leiland-James Corkill died on 7 January 2021, a day after suffering brain injuries at the home of Laura and Scott Castle in Barrow, Cumbria.
Preston Crown Court heard that the 38-year-old maintained the child's death was a tragic accident up until the start of her trial.
She had initially said that Leiland-James had accidentally fallen off the sofa but during questioning by her barrister, David McLachlan QC, she admitted she had shaken him and that he had hit his head on the arm of the sofa and fell off her knee.
Mrs Castle told jurors that Leiland-James was "screaming" after breakfast on the morning of 6 January.
"I shook my beautiful boy. I just wanted him to stop crying," she said.
When asked by her counsel "How much force did you use to shake him?", the defendant replied "I would say a lot".
The jury heard that when Leiland-James fell off Mrs Castle's knee she picked him up but he was "floppy" and "gasping".
In tears, she accepted that she was responsible for the boy's death.
Mr McLachlan asked: "What went through your mind when you shook the life out of Leiland-James?"
She replied: "Please stop crying, please stop crying. I just wanted it stop."
The defendant said she told her husband the boy had fallen off the sofa, but omitted to inform him about the shaking.
Mr McLachlan said: "Why didn't you tell the people trying their best to save Leiland-James's life what had happened?"
Mrs Castle said: "I was just terrified of the consequences of my actions and ashamed."
She told jurors she had suffered from depression caused by her inability to get pregnant and had always wanted children.
The couple had begun the adoption process in 2019 which Mrs Castle described as "hard".
Jurors were shown text messages she had sent her husband in which she used offensive language about children.
She said she knew such messages were "unacceptable" and she was "disgusted in myself", but that was the "jokey" way the couple spoke to each other.
She admitted "smacking on the bum" - which she also referred to in messages - and told jurors there was "no excuse" but "you tend to parent how you were parented and I was smacked on the bum so I didn't really see it as an issue".
Mrs Castle also denies a charge of child cruelty. Her 35-year-old husband denies allowing Leiland-James's death and child cruelty.
Related Internet Links
The BBC is not responsible for the content of external sites.