Leiland-James Corkill: Murder-accused beat child, court hears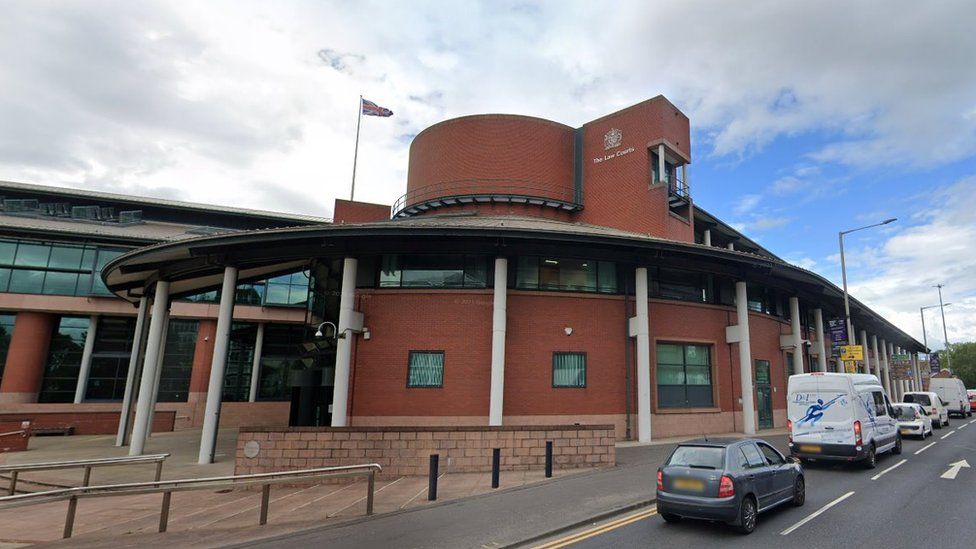 A woman who killed a 13-month-old boy she was trying to adopt told her husband she "absolutely leathered" the child in a beating, jurors have heard.
Leiland-James Corkill died in hospital on 7 January 2021, a day after suffering brain injuries at Laura and Scott Castle's home in Barrow, Cumbria.
Mrs Castle, 38, admits manslaughter but denies murder.
Preston Crown Court heard she texted Mr Castle months earlier calling Leiland-James an "absolute moaning whinge bag".
Mr Castle, 35, denies causing or allowing his death and two child cruelty counts.
Opening the trial at Preston Crown Court, prosecutor Michael Brady QC said Mrs Castle - who also faces two charges of child cruelty - accepts that she killed the boy but denies it was intentional.
He said against a "background of frustration" and "borne out of highly stressful domestic circumstances and an inability to bond", her "frustration turned to hostility culminating in [the boy's] murder".
Mr Brady said Leiland-James was eight months old when he was placed with the Castles in August 2020 as they were looking to adopt him.
The following month, Mrs Castle sent a text message to her husband calling Leiland-James an "absolute moaning whinge bag", adding: "I honestly really don't like him lately. I totally regret doing this."
Mr Brady said there were multiple other messages in which Mrs Castle used "aggressive and unpleasant" names for the child and her husband "actively encouraged" her to use "unlawful physical chastisement" against the boy.
There were other messages in which Mrs Castle said she had "absolutely leathered" Leiland-James, and in another said: "I need to stop smacking him [because] if I start I'll not stop at one point".
Mr Castle sent supportive messages back to his wife, including one in which he called her "amazing" and blamed the toddler for "making this whole process extremely hard".
Mr Brady said: "At no point did Scott Castle show any concern for Leiland or tell Laura Castle that she should not be hitting Leiland at all, let alone so violently and frequently."
The couple discussed being unable to cope with Leiland-James and giving him back to Cumbria County Council's care, but Mr Castle said he thought the £170 they would have to pay to do so would be a "waste of money".
At about 08:15 GMT on 6 January 2021, Mrs Castle called 999 to say the child had fallen off a sofa and was unconscious.
He was taken to hospital, first in Barrow and then to Liverpool, where medical staff were suspicious of Mrs Castle's claims.
In her police interview, Mrs Castle said she had been sitting with Leiland-James on her knee, but he had fallen to the floor after she stood up quickly.
Mr Castle told police the boy was "clumsy", "stubborn" and "lazy".
Mr Brady said a post-mortem examination found "catastrophic" injuries "consistent with traumatic head injury" which are "identified in cases of forceful shaking of a baby" or "associated with forcible impact".
He said the degree of force needed to cause the brain injury was "considerable" and other bruises on Leiland-James's head and face were consistent with "slapping, gripping, pinching, prodding and poking".
Mr Brady said a pathologist claimed the injuries were like those caused in a "high-speed" car crash or a "high level multi-storey fall".
The prosecutor said: "The Castles' general behaviour towards [Leiland-James] went beyond bad parenting and amounted to cruelty."
Charlotte Day, the foster carer who took Leiland-James in two days after his birth and looked after him until he moved to the Castles, told jurors he was a "really happy, content baby boy".
She said he liked playing with his toys and being read to, as well as being cuddled and "carried about".
Ms Day said he knew his routine and would "grumble" before he was fed, but only "really cried" when he was in his car seat which he did not like.
When asked how she had engaged with the boy Ms Day said: "Really well. We had a really good bond."
She said his meetings with the Castles had been successful and the handover had gone well.
Ms Day said she had been in regular contact with the Castles, including being sent a photo of him "looking pleased with himself" in his baby walker three days before the 999 call, and she never had any concerns for him.
The trial, which is due to last about four weeks, continues.
Related Internet Links
The BBC is not responsible for the content of external sites.