Sellafield 'whistleblower' Alison McDermott in post-tribunal appeal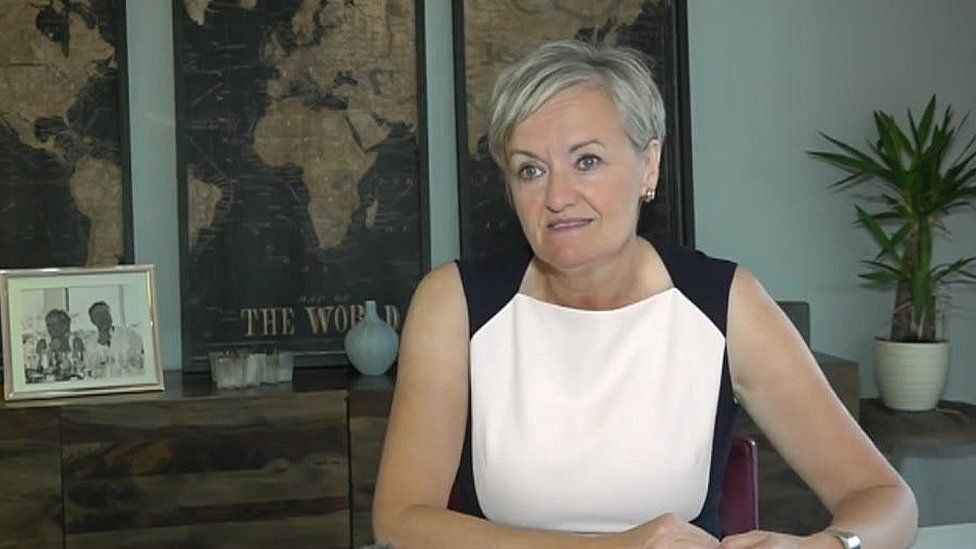 A consultant who claims she was let go from Sellafield for exposing failures to deal with bullying is appealing against her employment tribunal loss.
Alison McDermott said her contract at the nuclear processing plant ended after she wrote a "whistleblowing" report about bullying and harassment.
Sellafield said it could not comment on the appeal or any issues around the case "for legal reasons".
In September 2018, Mrs McDermott signed an 18-month, two-day-a-week contract worth £1,500 per day as a consultant in equality and diversity at the nuclear fuel reprocessing and decommissioning site.
Within weeks of starting she was tasked by human resources (HR) leaders to look into allegations of sexual harassment by an employee, but days after she submitted her report, which said the HR team was viewed as "broken and dysfunctional" by some staff, she was told her contract was being terminated.
Mrs McDermott was told the termination was due to "funding constraints" but, during the 13 day-long employment tribunal held in Leeds in June, it was revealed by Sellafield's lawyers to was because of what they said was the "questionable and insubstantial" report done by Mrs McDermott.
Tribunal judge Philip Lancaster said the reason Sellafield said it was for financial reasons was so Mrs McDermott could have left "with her head held high".
However, Mrs McDermott said that was tantamount to Sellafield "lying" to both the tribunal and the Nuclear Decommissioning Authority (NDA) and had denied her the right to properly respond to her termination.
The judge said her £12,000 report "chose to focus upon negative criticism" of the HR team rather than the allegations it had been commissioned to look into.
He said the "disclosures" Mrs McDermott claimed were protected under employment law were actually her opinions so therefore not whistleblowing.
In her appeal, Mrs McDermott's lawyers are arguing the tribunal failed to "engage" with her case, particularly by:
Declining to examine the "alleged toxic culture at Sellafield" and "failings" of the HR team which were the basis of her claim to be a whistleblower.
Failing to recognise the reasons initially given for her dismissal were later admitted to have been false.
Failing to consider Mrs McDermott's claim she was acting in the public interest.
Failing to recognise the information she was disclosing should have been granted whistleblower protection.
Her legal team also said other reports and staff surveys about Sellafield "point to a damaging work culture" but the judge failed to take those into account when assessing the context of Mrs McDermott's claim.
"Within a high-risk working environment such as Sellafield, an effective HR function is fundamental to the safe and lawful running of a nuclear site," her appeal lawyers said.
Mrs McDermott also said her treatment under cross examination was "brutal" and made her ill, while a "spiteful and vindictive" application for £40,000 costs from her made by Sellafield and the NDA was meant to be "intimidating" and would deter future whistleblowers.
A Sellafield spokesman said it was right to seek costs to get "value for money" for the UK taxpayers, while the NDA said it would be "entirely at the tribunal's discretion what any costs award would be".
Mrs McDermott said she was "disappointed but sadly not surprised" at her tribunal loss.
She said the tribunal had been "traumatic" with her "professionalism and integrity repeatedly attacked" by "savage and inhumane" cross-examination.
Mrs McDermott said: "Whistleblowers do not make things up, they speak out in good faith.
"No-one puts themselves through this harrowing process for their own self-interest."
She also said Sellafield had refused to attend mediation which could have saved "the taxpayer" the cost of a tribunal, although Sellafield declined to comment on that issue.
Mrs McDermott also said she had been portrayed to be a "gold-digger", but the case "has never been about the money" which was "proved" by her refusal to accept a £160,000 settlement.
"I was not prepared to do that as the offer came with conditions which would have prevented me from speaking out about my concerns," she said, adding: "My silence is not for sale."
A Sellafield spokesman said: "We have an obligation to defend ourselves against legal action that could incur large sums in compensation to UK taxpayers, particularly when claims made against us are without foundation as in this case.
"This was a complex case, stretching over a number of years, which required more than three weeks' worth of attendance at Employment Tribunal hearings, for which we were entitled to legal representation.
"In light of the findings of the tribunal, which dismissed all of the claims made against us, we have applied to recover a proportion of our legal costs."
Sellafield has previously said it was "committed to eradicating bullying and harassment at Sellafield", adding: "We do not tolerate this behaviour and where we find it, we address it."
Mrs McDermott has lodged her case with the Employment Appeal Tribunal which will consider if a legal mistake was made by the tribunal and, if they agree with her lawyers there could have been an error, a further hearing will be held to hear the case fully.
Related Internet Links
The BBC is not responsible for the content of external sites.