Lee McKnight murder: Co-accused heard 'ferocious' attack at her home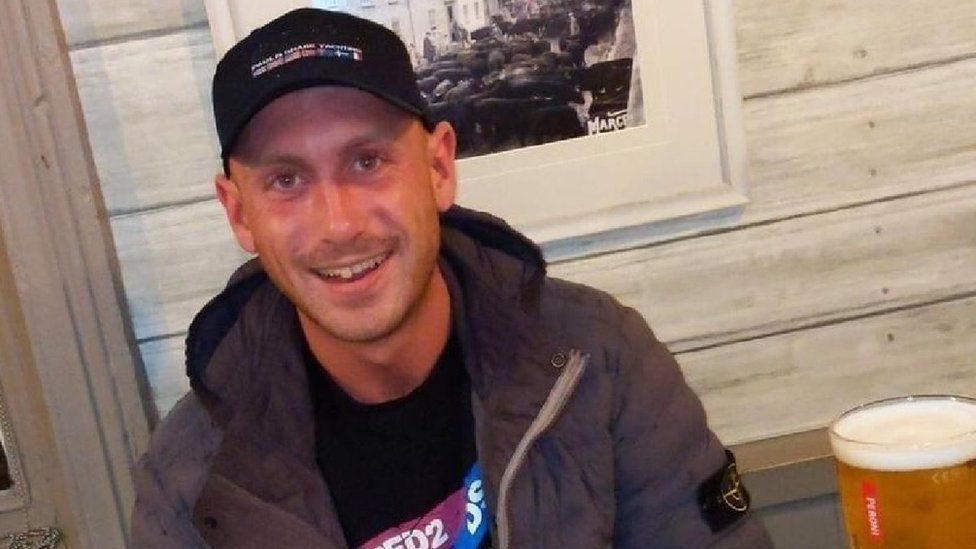 A woman jointly accused of murder has told a jury she heard a "ferocious" attack in her home and that she saw three fellow murder suspects standing over a man covered in blood.
Lee McKnight, 26, was beaten at a property in Carlisle's Charles Street and his body found in a river in July 2020, the Carlisle Crown Court has heard.
Coral Edgar, at whose home the attack is alleged to have occurred, said she was "terrified".
Six people deny Mr McKnight's murder.
All from Carlisle, the others charged with murder are:
Jamie Davison, 26, of Beverley Rise
Arron Graham, 26, of Blackwell Road
Jamie Lee Roberts, 18, of Grey Street
Carol Edgar, 47, of Charles Street
Paul Roberts, 51, of Grey Street
On her second day giving evidence, Coral Edgar, also 26, told the court Mr McKnight arrived at her home on 23 July to supply her with drugs following an exchange on Snapchat.
She said a fight broke out between Mr McKnight and Jamie Davison, who was already inside the property, with Mr McKnight being punched in the face.
As the men struggled into the kitchen, she told the jury she had jumped over a sofa and sat on a chair.
The court has previously been told Mr McKnight owed a drugs debt to Mr Davison.
"After I heard punches, it started to progress into what sounded more ferocious, like constant punches, like somebody was constantly being hit," she said.
"I was tucking my head into my knees, trying to cover my ears."
Ms Edgar said at one point she got up and looked into the kitchen where she saw three people looming over Mr McKnight.
Her barrister, Caroline Goodwin QC, asked who those three men were.
"Jamie Davison, Jamie Lee and Arron Graham," she replied, adding of Mr McKnight: "He was lying on the floor, nearly curled into a ball and there was blood on the floor. He was in like a foetal position."
Ms Edgar said she backed out of the kitchen and described being "terrified".
She spoke of then hearing a "repeated attack" and said Mr Davison entered the living room and asked her to call her mother, co-accused Carol Edgar, who was away from the address, for a lift.
"He did apologise," Coral Edgar told the court. "He said something along the lines of he was sorry and it wasn't meant to have got this far."
Asked why she called her mother, rather than police, she said: "I was too scared. I didn't want anybody catching me phoning the police."
She told the jury Jamie Lee Roberts, then aged 17, also entered the living room and used her phone. Shortly after, her mother returned home.
"I pointed into the kitchen. I think I told her to brace herself," said Coral Edgar, who then alleged Mr Roberts' father, Paul, arrived carrying a rucksack.
Jamie Lee Roberts, she told the court, then left the property before Mr Davison, Mr Graham, Paul Roberts and Mr McKnight also left the house.
Asked how Mr McKnight departed, she said: "Because there was four of them in such a small space, I couldn't be sure."
After the men left, she told the jury she recalled, "cleaning blood out of the kitchen".
Asked why she had not told police when interviewed about events she was describing to jurors, Ms Edgar responded: "Mainly because I was scared of the repercussions of being what they call a grass."
Mr McKnight's body was found partially wrapped in a curtain, in the River Caldew, at about 05:00 BST on 24 July.
Related Internet Links
The BBC is not responsible for the content of external sites.