Orphaned fox cub rescued from Cumbria driveway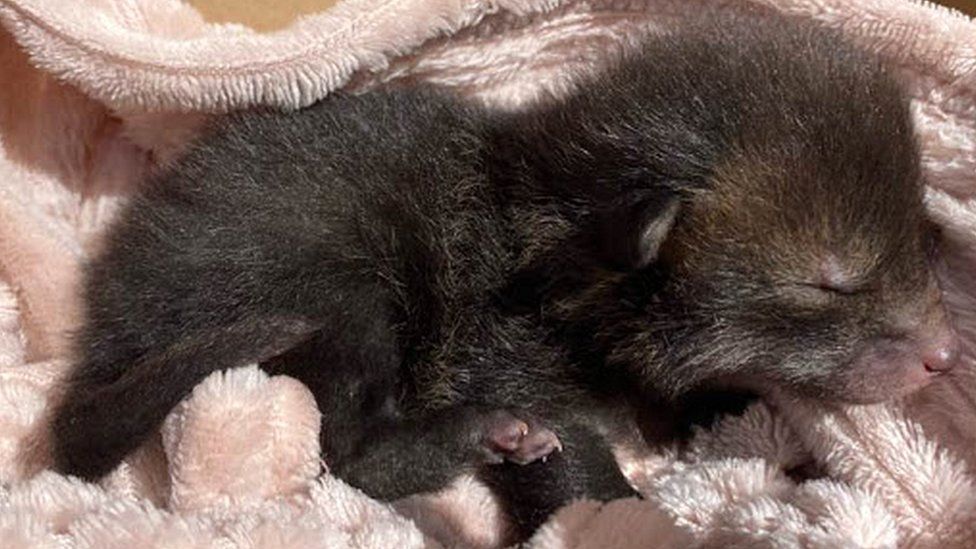 An orphaned fox cub has been rescued from a driveway in Cumbria.
The two-week-old male was found by a member of the public near Sandgate Farm in Grange-over-Sands on Monday.
The man monitored the cub throughout the day hoping the mother would return, but when she failed to appear he called the RSPCA.
The cub is now being hand-reared by staff at Stapeley Grange Wildlife Centre in Nantwich, Cheshire, until he is strong enough to return to the wild.
Animal rescuer, inspector Martyn Fletcher, said: "In these circumstances the mother will probably have been moving her cub to another location and may have dropped him but they usually return to collect them.
"The man who spotted the cub did exactly the right thing in monitoring him to see if mum would return for her youngster but sadly she didn't and so he called us for help."
The cub is being fed with a special puppy formula to replace his mother's milk until he is strong enough to eat solids.
Lee Stewart, manager at Stapeley Grange, said: "We are so grateful to any member of the public that takes the time to contact us about animals they fear need help.
"However, it is important to remember that not all young animals need rescuing and many would be better off being left where they are and monitored for as long as possible as the parents are usually nearby.
"If you see a lone baby wild animal, unless they are obviously injured or in immediate danger from predators or traffic, monitor the situation from afar as they may not need rescuing. Young animals have a much greater chance of survival if they remain with their mothers."
Related Internet Links
The BBC is not responsible for the content of external sites.