Covid: Lake District lockdown photos a 'daily tonic'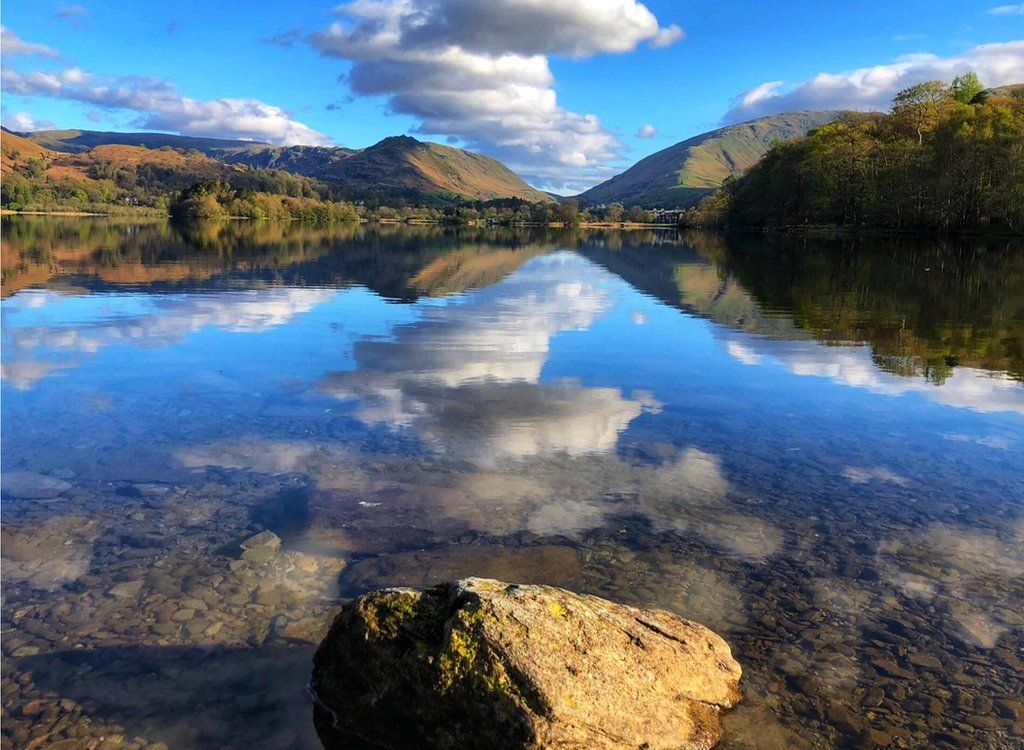 A man has spent 365 days "bringing the outside in" by posting photos of the Lake District on social media during lockdown.
Steve Watts, from Grasmere, said when the restrictions were announced on 23 March 2020 his thoughts were drawn to those living alone, or in places such as high-rise accommodation and care homes.
He came up with the idea of Covid Through the Lens where each day, during his run on the fells, he takes a photo on his phone and posts them on Facebook, Twitter and Instagram.
"Having lived in Manchester most of our lives and only moving to the Lakes four years ago, we realise just how lucky we are," Mr Watts said.
"After some thought I came up with the idea of how could I bring the outside in. I run on these mountains every single day and I just felt so sad about the current situation that people were finding themselves in.
"I'm so so fortunate to be able to do what I do and take to these mountains that we all love so much.
"And Grasmere being the jewel in England's crown, it's just a wonderful place to snap away."
Out of lockdown Mr Watts is a mountain guide, introducing individuals, families and schools to the "hidden gems of Lakeland" in the hope they will come back again time after time.
His daily posts have become a "daily tonic" in a Facebook group with dozens of comments each day from locals and expats from as far as New Zealand and America.
"Some of the reviews from families and feedback that I've had from people that are living alone have been heart-wrenching.
"One lady last week said, 'your pictures mean so much, they bring so many happy memories of me and my husband's visits there, he sadly passed away but thank you, keep on sharing them'.
"To me, it's very very moving because we are so lucky to share this part of the world."
His posts have become popular, with anything out of the daily routine attracting attention by those eagerly awaiting the latest snap.
"Normally I post the pictures after my early morning run," he said.
"Last Saturday I didn't post the pictures until after dinner and I received messages of concern asking about my wellbeing and if I was OK, with some asking, 'Steve what's happened to our daily tonic?'
"I now realise just how much the pictures mean to a lot of people out there."
Mr Watts has now hit the one-year mark of Covid Through the Lens, but it's not the end yet.
"In my wildest dreams I never ever thought I would still be posting pictures a year later and I also never imagined the feedback or reviews which I have received.
"For me one of my favourite photos just has to be the sunrise over St Sunday Crag from Fairfield. It is the sunrise and the dawn of a new day - one which heralds all that it may bring and hopefully that just may be the end of this horrendous pandemic.
"So until then, I'll keep snapping away."