Mary Queen of Scots haven Workington Hall 'to be repaired'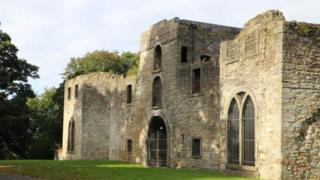 A crumbling manor house where Mary Queen of Scots sheltered before being captured and executed is to be repaired.
Allerdale Council wants to turn the 14th Century Workington Hall into a museum or wedding venue.
Historic England has pledged £150,000 to the project, while the council has allocated £50,000.
The hall is a Scheduled Ancient Monument and on English Heritage's "at risk" register.
The Grade I listed ruin, once owned by the Curwen family - who were Lords of the Manor of Workington, gave shelter to Mary Queen of Scots in May 1568 on her last flight from Scotland before her capture, imprisonment and execution.
A spokesman for Allerdale Council said the aim of the work was to "make it safe" and stop it crumbling further.
He said it was hoped work would begin in February and would take four months to complete.
How did the Queen of Scots end up in Workington?
Mary spent most of her childhood in France, only returning to Scotland after the death of her husband, the Dauphin
She later married her half-cousin, Lord Darnley, and then, shortly after his death, married the man suspected of murdering him
Imprisoned and forced to abdicate, Mary eventually fled to England, seeking the protection of her cousin, Elizabeth I
Given Mary's earlier claims to the English throne, Elizabeth saw her as a threat and confined her in various castles and manor houses, including Workington Hall
After 18 years, Mary was found guilty of plotting to assassinate Elizabeth and, in 1587, was beheaded