Ex-teacher 'appalled' by Witherslack Hall assault claims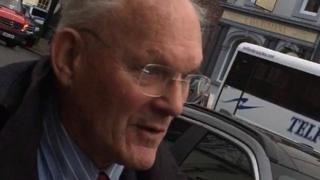 A former teacher accused of mistreating pupils at a residential school told police he was "appalled" by the allegations, a jury has heard.
Roger Whitehouse is one of five men on trial at Carlisle Crown Court accused of historical assaults at Witherslack Hall in Grange-over-Sands, Cumbria.
It is alleged they took place in the 1970s and 1980s.
The 78-year-old ex-deputy head, of Sea View, Haverigg, denies assault causing actual bodily harm and child cruelty.
Police interviews involving the defendants were played to the jury.
In his, Mr Whitehouse insisted there "weren't any punishments as such" at the now-closed school and said staff would merely give children a "good telling off".
Denying he assaulted two pupils he caught smoking, he told an officer: "There wasn't any systematic punishment from me or anybody else."
'Didn't do that'
He also denied making boys run or walk in bare feet on rough tracks.
When asked whether children had been hit with a plimsoll shoe, he replied: "No. We didn't do that."
Mr Whitehouse, who also said boys were not made to wear PE kit for misbehaving, told police: "I am appalled at these accusations against me."
He also denied seeing other teachers use "inappropriate punishments".
Earlier in the trial, former pupil Peter Taylor told the court he was punched in the face by Mr Whitehouse after taking cigarettes from a staff room.
Also on trial are Andrew Elliot, 68, of Greatford, Lincolnshire; Michael Lynch, 72, of Kirkhead Road, Grange-over-Sands; and Glyn Waterhouse, 62, of Stainton, near Kendal.
They deny charges of assault causing actual bodily harm.
Alec Greening, 69, of Dalton, near Burton-in-Kendal, denies one charge of child cruelty.
The trial, which is in its third week, continues.