Third man admits brutal Carlisle gang sex attack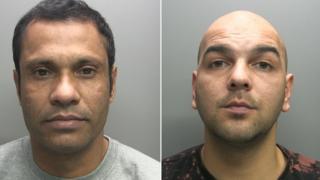 A third man has admitted being involved in a brutal gang sex attack on a woman.
Kabir Hussain, 41, and Marco Martins, 32, were jailed in March for what a judge called the "grossly degrading" ordeal in a Carlisle flat on Christmas Eve 2017.
Now Mohammed Miah, 38, who had "absconded" while on bail, has also admitted rape at Carlisle Crown Court. He will be sentenced on 11 January.
The court heard the victim had begged to leave during the attack.
Hussain, of Dod Street, London, was jailed for 11 years after admitting two rape charges and one sexual assault.
Martins, of Borland Avenue, Carlisle, pleaded guilty to sexual assault and received a 45-month prison term.
Judge James Adkin, told Miah, of the Strand, Exmouth, he "should expect a long prison sentence" as he remanded him in custody.