Cumbria local government shake-up talks planned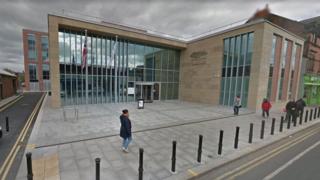 Council leaders have agreed to start talks with the government about Cumbria becoming a unitary authority.
A restructure could see seven existing authorities replaced by either one or two new councils.
A meeting of the county council was told that having just one authority could save an estimated £24.6m a year.
Leaders agreed to make a formal approach to the Ministry of Housing, Communities & Local Government to start negotiations.
Cumbria is currently run under a two-tier arrangement, involving one county council and six district or borough councils - Barrow, South Lakeland, Copeland, Eden, Allerdale and Carlisle.
The Local Democracy Reporting Service said councillors were told that if there were just two councils in Cumbria there could be savings of £16.8m.
'Longer than Brexit'
The Labour-run county council's leader Stewart Young said cutting the number of councils "isn't meant as a criticism of any of the district councils".
"They have dedicated, hard-working officers and councillors and what I don't want to see is the creation of division and conflict in Cumbria's local government family," he said.
Conservative opposition leader James Airey told the meeting the councils had seven "good" chief executives and upwards of 400 councillors which meant "huge costs" which could go on services.
There was "nothing to be scared of" and it was worth discussing, he added.
However, Liberal Democrat Andy Connell warned the chamber to be "careful of what you wish for", and said any discussion on a proposed structure could take "longer than Brexit".
The issue of a unitary authority for Cumbria was raised more than a decade ago before being rejected by the government.