Lake District walkers blasted over 'truly avoidable' rescue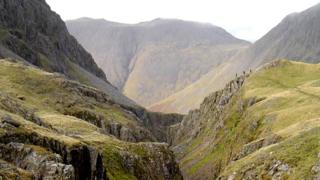 A rescue team has criticised a group of 10 walkers after "another truly avoidable" rescue on a mountain in the Lake District in the early hours.
Wasdale Mountain Rescue Team (WMRT) was called at 02:15 GMT after the group, relying solely on their mobile phones, got lost near the top of Piers Gill.
They had set off from Wasdale Head at 19:15 GMT with no map and no compass.
A WMRT spokesman said such "nonsense" needed to stop before more walkers, and potentially rescuers, were harmed.
The high point of the mountain is one of the rescue team's "blackspots" for "lost people and a number of fatalities".
The walkers had planned to be down in four hours but got lost when their phones lost signal, the WMRT said.
The team leader sent a text message which activates GPS, allowing them to be talked safely off the mountain by the duty team leader.
Richard Warren, WMRT spokesman, said: "This is becoming a nonsense and needs to stop before yet more walkers (and potentially rescuers) suffer hypothermia, injuries and in many of these situations, life-threatening injuries."
With darker nights and autumn weather, the rescue service said those venturing out on to the fells should go "well prepared, check the forecasts, start early, take a torch".