TripAdvisor restores Lakes hotel fire safety criticism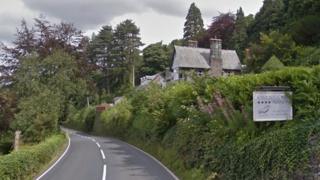 A review criticising a hotel's fire safety that was pulled from TripAdvisor has been reinstated.
Ex-fire safety office Alan Cox enjoyed his stay at Ravenstone Manor Hotel in Bassenthwaite, Cumbria, but criticisms included a fire exit blocked by plants.
TripAdvisor then removed his review, saying it should be "travel-related".
However, the travel website has now said it made a mistake. Manager of the Lake District hotel Charlie Mawdsley said most issues had been addressed.
Mr Cox also sent his concerns to Cumbria Fire and Rescue Service, which visited Ravenstone Manor and issued an enforcement notice making "a number of recommendations".
'Jumped the gun'
Mr Cox spent three nights at the hotel in August and said it was comfortable and had great staff.
However, his concerns included:
Fire doors having keyholes instead of "card swipe" entry
Windows along a key escape route made from normal rather than fire-resistant glass
A fire exit door blocked by overgrown plants
Mr Maudsley, who has 30 years' experience in the business, said he only took over the hotel - built in 1860 - in December.
He said: "This review has jumped the gun and most recommendations have been addressed."
Mr Cox, from Sutton Coldfield in Birmingham, said there was also an incident when the fire alarm sounded for 30 seconds before being switched off.
He said: "Staff were looking for the fire in public areas but none of the bedrooms.
"They said there had been an alarm fault before and basically assumed there wasn't a real fire.
"The hotel should have been evacuated and everywhere checked before the alarm was switched off."
A spokeswoman for TripAdvisor apologised to Mr Cox and added: "We considers traveller safety to be an extremely important issue and, as such, welcome first-hand reviews that alert travellers to any safety issues."