Workington psychiatrist 're-wrote' elderly woman's £1.3m will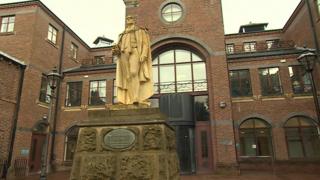 A consultant psychiatrist re-wrote a pensioner's will to gain access to her £1.3m estate, a court has heard.
Zholia Alemi met "vulnerable" Gillian Belham, then 84, at a dementia clinic in Workington, Cumbria, in 2016.
Three months later she "re-drafted" Mrs Belham's will to make her the executor and main beneficiary to inherit a cottage and £300,000, jurors heard.
Ms Alemi denies two charges of attempted possession of a lasting power of attorney for use in fraud.
The 55-year-old, of Scaw Road, High Harrington, also denies making a lasting will and testament for use in fraud and a further two counts of the theft of bank cards, banking documentation and paperwork, as well as 33 watches which belonged to Mrs Belham.
Prosecutor Francis McEntee told Carlisle Crown Court Ms Alemi had "swept" into Mrs Belham's life by "pretending to be her friend" and "exploiting an elderly lady's trusting nature in order to delve into her financial affairs".
"All as part of the process of finding the most effective way of stripping Mrs Belham of everything she had", Mr McEntee added.
Discharged from clinic
Mr McEntee told the jury Ms Alemi was working as a locum psychiatrist at Workington Hospital when she met Mrs Belham, now aged 87, and mainly dealt with elderly people who had dementia or Alzheimer's.
He said Ms Alemi expressed the opinion Mrs Belham "did not require any treatment for dementia" and discharged her from the clinic, the court was told.
Mr McEntee added: "By May 15 2016 it appeared that Mrs Belham's will had been changed so as to appoint the defendant as the executor of her estate and to make the defendant the principal beneficiary under the will.
"Under that supposed will, the defendant was to inherit one of Mrs Belham's homes and benefit under a trust in the sum of £300,000.
"The proceeds from the sale of Mrs Belham's main residence were also to be held in trust for the benefit of the defendant's grandchildren," he said.
The trial continues.