Donald Campbell's restored Bluebird in Coniston return hope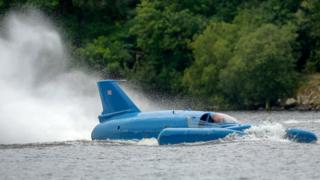 There are hopes Donald Campbell's record-breaking Bluebird could return to the Lake District next July.
The hydroplane, which crashed on Coniston Water in 1967, has been rebuilt in the North East and tested on a Scottish loch over the summer.
The Ruskin Museum Trust said it was working towards a date for the vessel to take to the water at Coniston again.
It is hoped the Bluebird will then go on show in a museum extension that was specially built for it 10 years ago.
Donald Campbell died when Bluebird flipped and crashed during an attempt to break his own water speed record in 1967.
It is now co-owned by the Ruskin Museum Trust - which was gifted the wreckage in 2006 - and Bill Smith, who salvaged and restored it.
The Bluebird Project said a "lot of infrastructure" needed to be put in place before there could be a test-run on Coniston Water, but it was working with the trust to "pull it off".
Anne Hall, who chairs the Ruskin Museum Trust, said it would be "quite amazing" to see it in Coniston again.