'Colossal' drugs haul found in car boot on M6 near Carlisle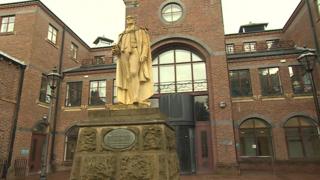 A courier who tried to transport a "colossal" haul of illegal drugs worth more than £700,000 into Cumbria in the boot of his car has been jailed.
Police stopped John Read's uninsured car on the M6 near Carlisle in July.
Officers found 24kg of cannabis resin, with a street value of £119,000, and 60kg of amphetamines, worth £600,000.
At Carlisle Crown Court, the 51-year-old was jailed for three years after admitting possessing class B drugs with intent to supply.
Read, of Bellmore Street, Garston, Liverpool, was described by the defence as a "well-loved man" whose life had "spiralled out of control" following the death of his son.
It was claimed he had accrued multiple debts after turning to alcohol.
However, Judge Peter Davies described the amount of amphetamines he had in the car as "colossal".
Speaking of Read's position as a criminal courier, he added: "That is a trusted role, it is an important role.
"It is not a role under coercion. You knew what you were doing."