Restored Donald Campbell's Bluebird has 'nothing to prove'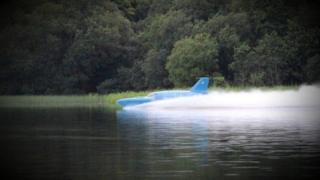 It would be "incredibly foolish" to attempt to break any speed records in Donald Campbell's rebuilt Bluebird, project leader Bill Smith has said.
The rebuilt boat is being tested on the Isle of Bute in Scotland following a 22-year restoration project.
Campbell was killed in 1967 as his hydroplane crashed on Coniston Water during his attempt to break his own water speed record.
Mr Smith said the restored Bluebird had "nothing to prove".
The original hydroplane, which was recovered from the lake in 2001, has hit speeds of 150mph in tests on Loch Fad, with video of the milestone posted on social media.
But Mr Smith, who rebuilt the boat at a yard in North Shields, has ruled out any world speed record attempt, adding: "That would be incredibly foolish. You saw what happened last time.
"This vessel had held the world water speed record seven times. It's the most successful contender in history and, after a 300mph accident and 34 years of immersion, she's back.
"Anything to prove? Nah."
Following the current tests it is hoped Bluebird will return to Coniston, where a museum telling the story of Campbell's record-breaking attempts is based.
Lead pilot Ted Walsh, who endured the canopy bursting off earlier in the week, said: "It's pretty interesting to see the boat is performing in a pretty similar way to when Donald Campbell had it."