Sellafield's 'most hazardous' radioactive 'liquor' removal under way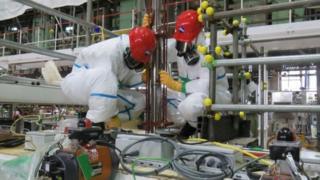 Work has begun to remove radioactive "liquor" stored at Sellafield nuclear site.
One of the sites' "most hazardous" materials, it is being extracted from one of the oldest parts of the storage silo where it has been for decades.
New networks of shielded pipes have been built to pump the liquid out of the building.
Chris Halliwell of Sellafield Ltd, said it was one of the "biggest technical and engineering challenges to date".
Fresh water will be pumped back into the 22 compartments of the old waste store, so work can commence on removing the solid contents for treatment, storage, and eventually disposal.
The material will be stored in new buildings at Sellafield for treatment and the silo will then be fully decommissioned and demolished.