Route chosen for A595 Carlisle village link road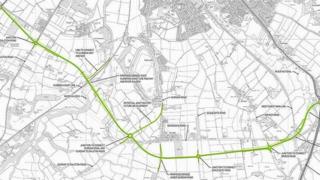 The route for a new Carlisle link road which will lead to a planned new village has been unveiled.
Cumbria County Council has been considering two routes which will link the A595 west of the city with the M6 at junction 42.
It has now chosen the "greener" route for the Southern Link Road project which will go from Peter Lane to south of Durdar leading to the motorway.
The council said the road will be vital if a 10,000-home village is built.
Earlier this year a consultation was launched to gather feedback on the proposed routes, with more than 2,000 people attending public meetings and responding to a questionnaire.
Keith Little, the council's cabinet member for highways and transport said: "We've done extensive and detailed work to get to this point, carefully considering all the different factors in reaching this decision.
"We're clear that this road would provide significant benefits for Carlisle and the whole county, helping unlock both housing and economic growth."
A final public consultation will take place after detailed plans are drawn up and the council will put forward a bid for backing from the government's Housing Infrastructure Fund.