Beacon Edge nursing home abuse report delayed for two years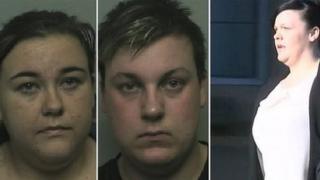 A report detailing "systematic failings" at a care home where three workers were jailed for abusing residents was held back for two years, it has emerged.
Cumbria Safeguarding Adults Board (CSAB) launched the probe in 2015 into events at Penrith's Beacon Edge.
The subsequent report was completed in March 2016.
It has now been made public, with the board having delayed it until "all recommendations had been actioned".
The report looked into Bupa, which ran the home until October 2017, as well as a number of agencies associated with it.
It followed the jailing in 2014 of William Bowman, Chevonne Benson and Claire Strong, who admitted multiple counts of ill-treating residents with dementia.
The report, published on Thursday, found "systematic failings" in the home's management.
The investigation found that during 2013, when Bowman, Benson and Strong were employed at the home, almost half of the patients "did not live in a safe, secure or pleasant environment" and at least 15 were "harmed and exposed to physical assaults, disrespectful language and behaviour".
Despite considerable professional input and scrutiny resulting in promises of change, there were no substantive improvements, and neither Bupa's in-house training nor the training provided by health professionals made a difference to practice, the report found.
The author of the report, Margaret Flynn, who is the joint editor of the Journal of Adult Protection and the Chair of the National Independent Safeguarding Board in Wales, described the delay in publishing as "disappointing".
She said: "I very much hope that the families whose relatives were at Beacon Edge, who willingly contributed their time and experience, were informed of the findings when it was concluded."
Jeanette McDiarmid, independent chair of CSAB, said the report made it clear that Bowman, Benson and Strong "abused and neglected residents".
"But clearly there was failings from all the organisations involved about the practises, about the governance and the quality assurance practises that were in place at that time," she added.
She said the "practices that are now in place by all the partners that are involved in safeguarding adults across Cumbria are much more robust".
Referring to the delay in publication of the report she said that in future the board would "commission a report right away that would run in tandem with the criminal trial and then, at the end of the trial, we would then consider publishing a report".
She said: "It's not taken five years for the difference to be made to the practises across Cumbria - they started to be addressed right away after the incident in 2013."
'Deeply sorry'
The review described it as "regrettable" that Bupa's contribution had been "partial", and the company had responded "belatedly and erratically to requests for information and clarifications".
CSAB said it would write an open letter to Bupa, expressing concern about its "circumscribed responses to the questions raised by this review", and asking it to "account for changes which will be instigated as a result".
Joan Elliott, managing director for Bupa Care Services, said it was "deeply sorry for the events that took place at Beacon Edge" and added it had made "significant changes" since 2013.
"We've improved our staff training and whistle-blowing process, and now carry out regular unannounced home inspections," she added.
"The behaviour of these individuals was completely unacceptable and isn't an accurate reflection of the care provided in our homes."
Beacon Edge closed as a care home in February.