Air traffic staff shortage delays Carlisle flights launch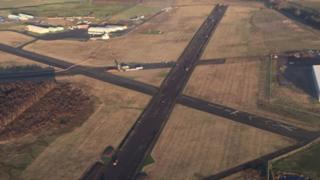 The start of passenger flights from Carlisle Lake District Airport has been delayed due to a shortage of air traffic control staff.
Stobart Group had announced Loganair routes to Dublin, Belfast and London Southend would start on 4 June.
The company said it made the decision to postpone the launch until September "with enormous regret".
Loganair said booked passengers would be offered a refund or alternative flights from Manchester or Glasgow.
'Changing circumstances'
Kate Willard, from Stobart Group, said: "This major project to launch air services from a new airport relies not only on the airport's infrastructure being complete but also on a full complement of essential operational staff being in place.
"Regrettably, changing circumstances around staffing means that this cannot be completed in time for the airport to receive scheduled flights as planned, despite every possible human effort being made."
Loganair's managing director Jonathan Hinkles added: "We're working hard to inform all passengers and we completely appreciate the frustration which disruption to travel plans can cause.
"We have taken the decision to delay to September to provide the greatest level of certainty that the new target date for the introduction of services will be met, allowing the travelling public to book with confidence."