MasterChef marathon death: Money raised will help young chefs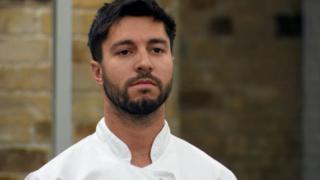 Money raised following the death of a former MasterChef contestant during the London Marathon will be used to help young chefs, a charity has said.
Matt Campbell, 29, from Kendal in Cumbria, was taken ill at the 22.5 mile mark and died in hospital.
More than £365,000 has been donated to the Brathay Trust since his death.
The Lake District-based charity, which works to improve the lives of young people, said it wants to do something "significant" with the money.
Mr Campbell was running in memory of his father Martin, who had volunteered for the charity and died 18 months previously.
The charity's chief executive Godfrey Owen said: "His family are very interested in young chefs.
"It's been very interesting just to see how many people in that industry would like to support Matt by helping young people going into that very challenging, but must be very rewarding, sector."
He said it was "devastating" to hear of Mr Campbell's death.
"One can't help but feel that responsibility of doing something significant with such an amazing figure," he added.
The charity raised £900,00 in total last year. Since Mr Campbell's death more than £365,000 was raised in a month.
People from more than 55 countries took part in the "Finish for Matt" campaign, running the 3.7 miles Mr Campbell could not complete.
He had appeared on the BBC's MasterChef: The Professionals in December 2017 and reached the semi-finals.