Child obesity in Cumbria 'needs urgent action'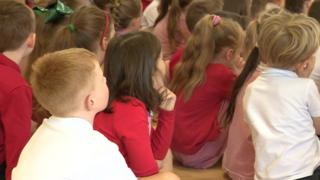 "Urgent action" needs to be taken in Cumbria to tackle childhood obesity, according to the county's director of public health.
An estimated 28.2% of reception-age children are overweight or obese - more than any other county in England - Public Health England figures reveal.
Colin Cox said the "environment around food" needed to be changed.
All district councils in the county have now signed a "healthy weight declaration" to address the problem.
The declaration is a public pledge to try to reduce obesity by exploring a number of measures.
They include changing planning rules to restrict takeaways near schools, encouraging local businesses to sell more healthy food and making sure healthy food is available on council-owned sites.
Mr Cox said: "We have to be acting now to try and turn that round at an early stage, because an overweight five-year-old is likely to be an overweight 15-year-old, is very likely to be an overweight 55-year-old.
"There's a lot we can do around taking a range of action. No one thing will sort this out."
Public Health England figures estimate the percentage of children in Cumbria who are overweight or obese has grown in recent years.
In the 2012-13 academic year, it was 22.9% - close to the English average.
But by 2016-17, it had grown to 28.2%, compared to an England-wide average of 22.6%.
Health problems linked to obesity include type 2 diabetes, heart disease, stroke and certain types of cancer, such as breast and colon.
A spokesperson for the Department of Health and Social Care said its childhood obesity plan was "among the most comprehensive in the world" and that the sugar tax is being used to fund school sports and nutritious breakfasts for poorer children.
You can watch the full report on Sunday Politics on BBC One at 11:00 BST on Sunday 20 May.