Russell Curwen death: Motorbike convoy for Kendal blood biker funeral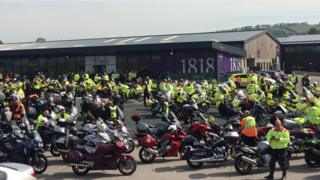 Hundreds of motorcyclists have attended the funeral of a blood bike volunteer.
Russell Curwen was fatally injured in a collision between his motorcycle and a car in Lancaster on 5 May.
The 49-year-old, from Kendal, who did voluntary work for the North West Blood Bikes charity, was delivering emergency samples to a laboratory.
A convoy of about 500 motorcyclists joined the funeral cortege before the service the service at Kendal Parish Church.
The convoy - which included blood bike volunteers from around the country, some from as far afield as Suffolk - stopped briefly outside Westmorland General Hospital to pay their respects to staff.
Lee Townsend, of North West Blood Bikes, said: "We are, to coin a phrase, a band of brothers.
"It's not just North West Blood Bikes, but blood bikers across the country, and bikers across the country.
"The impact on the charity has been massive because at the end of the day the irony is that he was trying to save someone's life and ended up giving his own."