Safety work continues around site of derelict Central Plaza Hotel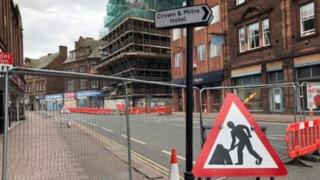 Work is continuing around a derelict hotel in Carlisle amid fears over several tonnes of loose masonry.
Victoria Viaduct, one of the main roads into the city centre, has been closed for almost two weeks over concerns about the Central Plaza Hotel building.
Contractors are installing an extra 80m (260ft) of hoarding around the frontages of the nearby Tesco and B&M stores.
Cranes will enter the site once it is safe to do so, the city council said.
"The stone is at the top of the building at excess of 18m (60ft) in height," a spokeswoman said.
"Once on site, contractors will be instructed, if safe, to work 24 hours a day to complete the works.
"We have a duty to ensure the building is safe and all possible steps are being taken to find the quickest way to do this."
The council is working with Cumbria County Council and specialist contractors, and said "support continues to be provided to local businesses affected by the closure of Victoria Viaduct".