Save Grange Lido group appeals to MP Tim Farron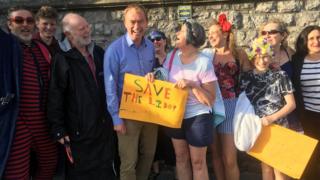 Campaigners hoping to bring a derelict coastal lido back to life donned swimwear to lobby the local MP.
Grange Lido closed in 1993, and there have been a number of plans to develop the site, the latest involving filling in the pool with concrete.
However, a campaign group wants to restore it to its former glory.
Members of Save Grange Lido, some sporting swimwear or accessories, met Tim Farron, Lib Dem MP for Westmorland and Lonsdale, to gain his support.
Afterwards, a spokesman for the group said Mr Farron was "broadly supportive" of not filling in the pool.
The spokesman said a meeting was being arranged between campaigners and town councillors to listen to concerns and develop ideas for the future of the site.
Campaigner Kate Random Love said: "Restoring our Lido to its original purpose would give Grange a new lease of life.
"It would be an amazing community resource and tourist attraction and would really put our town back on the map."
A spokesperson for South Lakeland District Council said: "Several studies have concluded that retaining Grange Lido for use as a pool isn't viable.
"Local residents, businesses and visitors have had their say on non-pool options which are compatible with the Grade II-listing of the site.
"[The council] is now moving forward to restore the lido site in a way that is sympathetic to its listed status and to secure its long-term future as a sustainable community asset."